A heat grid in the snow
Five agenitor 212 reliably deliver energy at up to -32 °C
This installation shows that chp projects in borderline climates, be it warm or cold, can be realized without any problems.
Facts & figures
Application:
Utilities and energy service companies
Output el/th (kW):
5 x 440 kWel / 5 x 445 kWth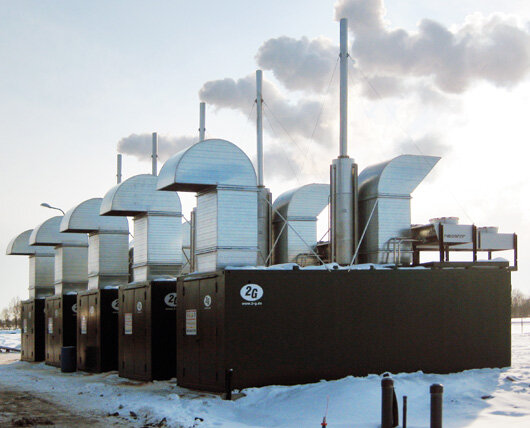 Each agenitor is installed in a nine-meter container and connected to a 2.5 MW hydraulic shunt where the heat connections converge. A transfer pump was also installed downstream of the shunt, so that all of the heat generated is fed into the heat grid. In addition to the highly efficient operation, the organization of the entire project can be called a logistical masterpiece. Delivery was conducted on five consecutive days with two trucks each. All modules were fully installed within a week.

Flawless function at 32 degrees below zero
The location's outdoor conditions posed a special challenge: the high availability one expects from a 2G plant had to be ensured at temperatures down to -32 °C during the Latvian winter. This is where it pays off that 2G has such strict demands for top quality in all components it uses. This allows us to carry out projects in extreme climates (be it warm or cold) without trouble.
Which CHP systems are used?
References
Similar projects