Flexible operation with strict requirements
Bioenergie Stoetze does pioneering work in terms of flexibilization
The CHP plants are able to curb their output to up to 30 percent. This enables a very flexible operation for to meet demand.
Facts & figures
Application:
Utilities and energy service companies
CHP:
patruus 370, avus 800b
Output el/th (kW):
370 kWel / 889 kWth, 431 kWel / 875 kWth
Operator:
Bioenergie Stoetze GmbH & Co. KG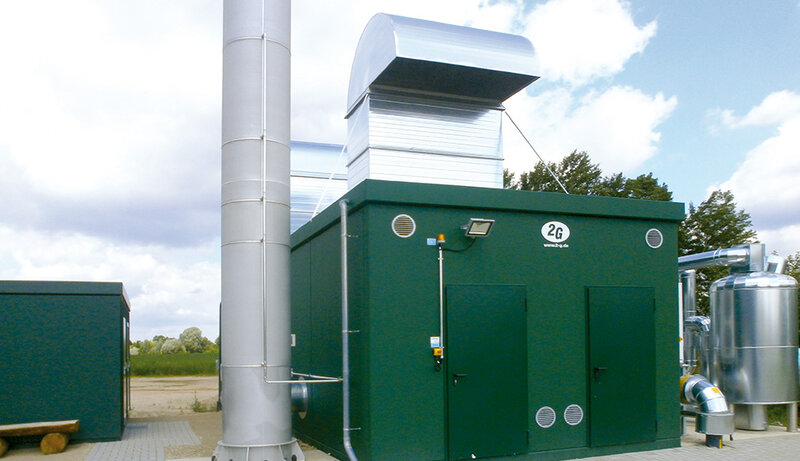 Bioenergie Stoetze GmbH & Co. KG has been operating a biogas plant in the direct vicinity of Stoetze, a village with the same name, in the north of Germany for more than ten years. This plant differs substantially from conventional biogas plants: The eleven shareholders – all of them farmers – are doing pioneering work when it comes to flexibility.
Stabilization of the public grid
The plant has been operating highly flexibly for public power grid. "The reason for this was that the electricity grid was weak and the numerous wind power plants caused it to switch off again and again because the grid was too full," reports CEO Michael Borgard.
Heat supply to the neighboring village
The electrical energy is provided by a patruus 370 (370 kW electrical and 431 kW thermal) and avus 800b (889 kW electrical and 875 kW thermal) CHP plant and fed into the public grid. 60 percent of the thermal energy totalling 1,306 kW is fed on to the houses in the adjacent village through a local heat network. A buffer tank was also installed to ensure an even heat supply.
Needs-based operation
Both CHP plants are able to curb their output to up to 30 percent. This enables a very flexible operation for providing primary balancing power (PRL) to meet demand. A few additional components were installed to ensure that this happens. The two gas filters have an important role to play. Biogas often contains a relatively high proportion of sulfur which contaminates the components in a CHP engine and may result in major engine damage. In order to prevent this, a preheating unit was installed in the gas filter filled with activated carbon. This preheating of the gas filter ensures that the gas is not condensed when entering the filter due to the difference in heat and the activated carbon can filter out the sulfur found in the gas accordingly. Another measure for the primary balancing power operation was to install the avus 800b in a concrete acoustic enclosure (45 dB (A) in 10 meters) with its own preheating unit and multileaf dampers. Both measures also ensure the quick start-up of the engine at the lowest temperatures.
Which CHP systems are used?