A proud self-sufficient
g-box 20 supplies Gasthof Driland with electricity
A g-box 20 provides energy for the hotel and restaurant during the day, and at night the owner's electric car is charged with electricity from the CHP.
Facts & figures
Application:
Hotels and resorts
Output el/th (kW):
20 kWel / 43 kWth
Operator:
Gasthof Driland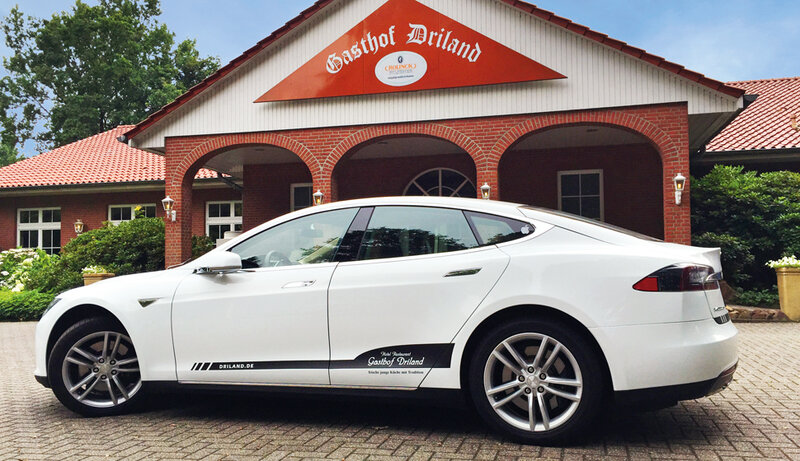 Hotels and restaurants use large amounts of energy all year round so there is a drive in the sector to support technologies that offer energy savings. The Hotel Driland team used the g-box 20 to implement a highly original energy savings concept: it even powers up the company car.

Hotels' high year-round heating requirements makes them an ideal place to use CHP systems. The Hotel Driland in the Westphalian town of Gronau, Germany, succeeded in increasing its share of energy for internal consumption in a highly innovative way: A g-box 20 provides the energy needed for daytime business at the hotel and restaurant. At night, when less electricity is needed, the 2G CHP is used to charge up the company car, a sporty Tesla S85. "By connecting the g-box to our in-house charging station for the company car, we've significantly increased our self-supply efficiency," explains hotel owner Thomas Berning-Motzkuhn.

Combined heat and power generation + photovoltaics
To round off the hotel's ecological approach, there is a 30 kW photovoltaic system on the roof to complement the CHP and the use of the electric car. "Our hotel's relatively high energy requirements have made way for a host of innovative concepts, which we are happy to take advantage of. Our team is proud of its collective contribution to climate protection," emphasises Berning-Motzkuhn.
"Our team is proud of its collective contribution to climate protection."
Which CHP systems are used?